Agincourt and Michelmersh
The 12th/13th Century church of St Mary's in Michelmersh would have looked out over the adjacent field, filled with the soldiers and archers who would be accompanying King Henry V to battle at Agincourt.
Scattered in fields and villages north of Southampton, King Henry V started to gather his troops, ready to cross the English Channel and do battle once more with the French.
668 Knights and archers assembled for two nights in the field to the left of Manor Farm Road known as 'Agincourt Field'. The troops were reviewed by the Duke of Gloucester.
The fine longbow archers would have set up their butts and spent the days here practicing their lethal art.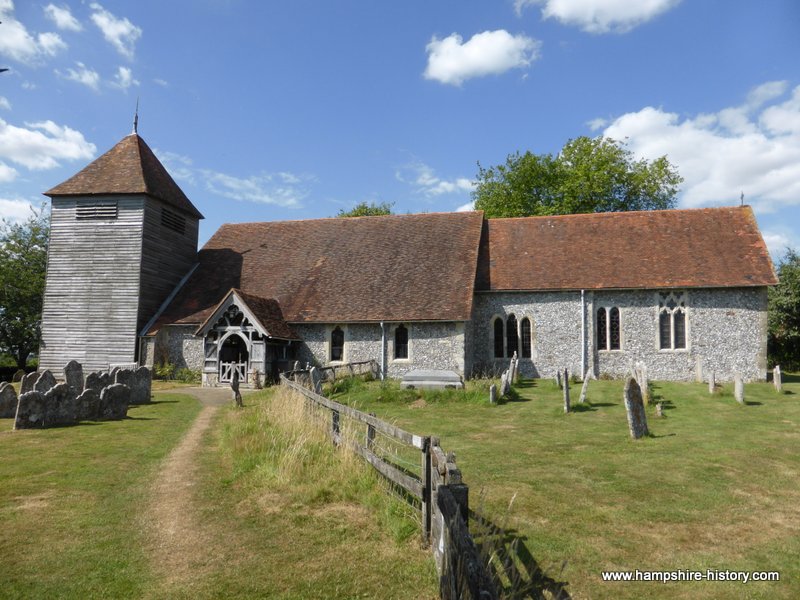 Many would have gone into the church and maybe paid due respect to a noble crusader who went to fight battles just as they must do and whose effigy lies in the nave. Such tombs were often used as a point of pilgrimage by other knights. Click here to see the Knights Templar at Fordingbridge.
The effigy is thought to be Sir Geoffrey Canterton c.1320, his hands are folded and his feet rest upon a buck. This restful warrior must have given courage to those troops whose time of glory would come at Agincourt.
The wonderful wooden tower is a 15th century addition but the 13th century font with its unusual carved heads would certainly have been in place in 1415.
To read about the Southampton Plot on the eve of King Henry's departure for France, click here.