Guarded by ancient yew trees, All Saints Church Farringdon has much to offer those in search of Hampshire history both in the church itself and outside in the church yard.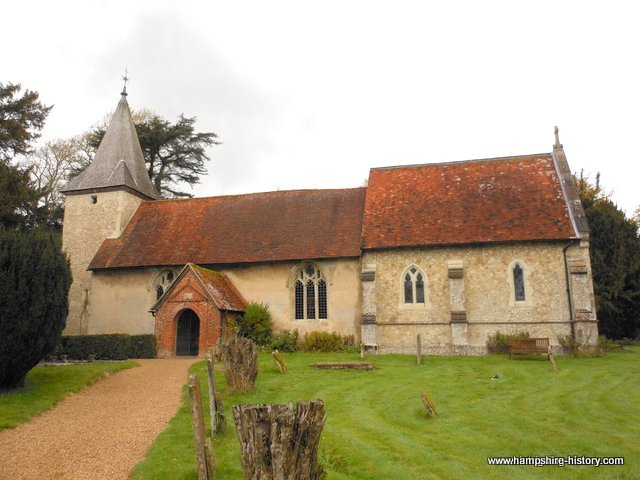 A Preachers Cross
From a cross in the church yard, of All Saints Church Farringdon, the Reverend Gilbert White, naturalist of Selborne, would preach his sermons, no doubt whilst gazing around in the hope of capturing sight of something elusive he could add to his natural history journals. The church was quite the centre of scientific pursuit. The rector before Gilbert White's incumbency, was his friend Stephen Hales.  Hales was a gifted and eminent scientist of his day and elected a fellow of the Royal Society in 1718 for his work. Included in his many studies of biology, botany and physiology, he invented ventilation apparatus for prisons and the holds of ships to try to reduce infection.His fame spread across Europe and he was appointed a Fellow of the Royal Academy of sciences in Paris and a member of the Academy of sciences in Bologna. 
A Murder most foul has been committed
During Hales time as Rector of All Saints, a murder occurred in 1758 of Mary Windebank. This poor old lady was dragged from her four poster bed and brutally murdered. The money she kept hidden underneath was stolen. Her gravestone tells the whole story: Murder most foul. In memory of Mary Windebank. It's not concealing the actions here Nor breaking justice without death or fear Shall shroud the guilty from the eye of God Incline his balance or aver his rod But blast the villein who here from justice fled Who robbed me, killed me and insults me dead. 
So far, All Saints Church Farringdon has links with a world renowned botanist, Gilbert White, an eminent international scientist and a murder most foul.
It seems the rectors of All Saints Church Farringdon bestowed all kinds of intriguing connections. John Benn who was rector from 1797 – 1857, had a daughter who was great friends with Jane Austen living at nearby Chawton and Thomas Massey, rector from 1857 – 1919, who would bestow upon the village it most unusual sight, Massey's Folly. All this without even entering the church itself which dates from the C12th but is thought to be sited on an earlier site of worship. It is possible that the yew trees are older than the present church itself.