A Jane Austen timeline
The author Jane Austen is synonymous with Hampshire. She is an integral part of Hampshire history, bound into the fabric of the villages of Chawton and Steventon, the towns of Alton, Southampton and Winchester. She swept her observant Georgian eye across a swathe of society and capturing them, assured herself a place in literary hearts the world over.
The Jane Austen timeline has been created to help you to follow her life and works, not just in Hampshire but elsewhere in England. Her two brothers, Francis and Charles served in the Royal Navy and were often to be found in Portsmouth. Jane had many friends in Hampshire and spent time in Ashe and Deane not far from Steventon, where Jane and her family lived when she was a child.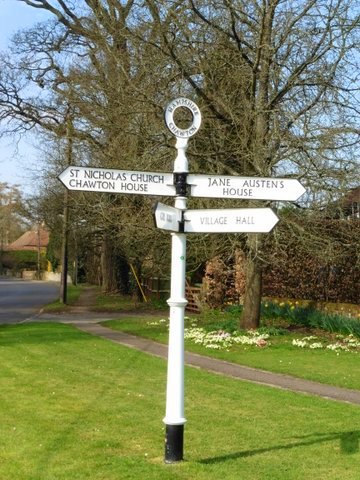 The timeline is a dynamic one and data and links will be added to it to help you find good source material about Jane Austen and the Austen family. So please return to it and we will update as often as we can. In the meantime we hope you will enjoy the many images of the beautiful Hampshire countryside that Jane Austen had links with.

| DATE | EVENT |
| --- | --- |
| 1764 | George Austen and Cassandra Leigh marry at St Swithun's Church Bath. |
| 1773 | Cassandra Austen is born, older sister to Jane she becomes Jane's clsest friend and confidant. |
| 1774 | Frank Austen is born |
| 1775 | Jane Austen is born in Steventon, England. She is the seventh of eight children born to Rev. George and Cassandra Austen, and one of only two daughters. |
| 1779 | Charles Austen is born |
| 1779 | James Austen, Jane's oldest brother goes to Oxford University. |
| 1780 | Edward Austen b. 1767 was steady and business-like, and in the early 1780's was adopted by rich childless cousins of the Austens, Thomas and Catherine Knight. He was sent by them on the "grand tour" of continental Europe in 1786-1788, and eventually inherited their estate of Godmersham, Kent, and took the last name of "Knight". |
| 1783 | Cassandra and Jane Austen are sent to Oxford, England to be educated by a tutor named Ann Cawley, (the sister of one of their uncles). They move with her to Southampton. Both girls contract typhoid fever during an outbreak and return home to Steventon. |
| 1785 | Jane and Cassandra Austen enroll in boarding school, at Abbey School in Reading. |
| 1786 | The family can no longer afford to educate the sisters at Abbey School and they return to Steventon. The rest of Jane's education is completed at home from her father's voluminous library. Jane lives with her parents and sister for the rest of her life. |
| 1786 | Frank Austen enters the Royal Naval Academy at Portsmouth |
| 1787 | James Austen was ordained a clergyman. |
| 1788 | Juvenilia (including The History of England, Love and Freindship, Catharine ...) |
| 1788 | Henry Austen b.1771 was Jane's favourite brother. This year he went to Oxford. |
| 1789 | James and Henry Austen edit a university magazine at Oxford called 'The Loiterer', which ran for sixty issues |
| 1790 | Jane lives for the first 25 years of her life in and around Steventon in North Hampshire. She attended dances and balls with her sister at many of the large houses including the Vine. She danced at the Assembly Halls in Basingstoke. She shopped in Alton, Alresford, Andover, Whitchurch and Overton. |
| 1791 | Charles Austen enters the Royal Naval Academy at Portsmouth. |
| 1793 | Jane started on a play which she soon abandoned. It was later titled, "Sir Charles Grandison or the happy Man, a comedy in 6 acts" which she restarted and completed around 1800. |
| 1793 | Jane begins to write a novelette called Lady Susan |
| 1793 | The Dolphin Hotel in Southampton claims that the Austens celebrated Jane's 18th birthday in one of it's large rooms |
| 1795 | Jane's father was also the rector of Ashe, a village not far from Steventon and Jane often visited her friends the Lefroy's at Ashe House. Here she meets Tom LeFroy, an Irish law student who is the nephew of her neighbor. Austen and LeFroy spend time together during his month-long visit to Steventon. He leaves in January 1796 and soon becomes engaged to someone else, ending whatever relationship they had. Austen writes affectionately of LeFroy to her sister, prompting later speculation that he is the real-life inspiration for her male characters |
| 1795 | Elinor and Marianne, the earliest version of Sense and Sensibility, written in epistolary form |
| 1796 | Composition of First Impressions, original version of Pride and Prejudice |
| 1797 | Austen completes the first draft of First Impressions, the novel that later becomesPride and Prejudice. |
| 1797 | Cassandra's fiancé Thomas Fowle died of yellow fever in the Caribbean |
| 1798 | Drafting of Northanger Abbey (then called Susan, later Catherine) |
| 1798 | Jane's friend Mrs Lefroy, introduces Jane to Mrs Lefroy, to a striking new young man, the Rev Samuel Bicknall. |
| 1800 | Austen moves with her parents to the resort town of Bath, England, after her father's retirement from clergy. |
| 1802 | Just before her 27th birthday, Jane Austen receives her only marriage proposal. A recent Oxford grad named Harris Bigg-Wither proposes to Austen while she is visiting his sisters. Realizing that the marriage would be good for her family's circumstances, Austen accepts. The next morning, however, she changes her mind and withdraws her acceptance. Bigg-Wither marries two years later; Austen never does. |
| 1803 | Susan prepared and offered to a publisher for £10. But the book is never published, and Austen's family later buys back the rights to the work. |
| 1803 | The Watsons (unfinished) |
| 1805 | Jane's father George Austen dies, leaving his wife and sisters financially dependent on his sons. The Austen women first rent a house in Bath. |
| 1807 | Jane Austen, her sister Cassandra and their mother, with their friend Martha Lloyd who is sister of James Austen's wife, moved to Southampton to share a house with brother Frank and his new bride Mary. The house is in Castle Square. |
| 1809 | Jane and Cassandra Austen and their mother move into Chawton Cottage, a home on an estate owned by their brother Edward. |
| 1809 | Sense and Sensibility revised and prepared for publication |
| 1811 | Austen publishes Sense and Sensibility, whose author is identified on the cover only as "a Lady." Austen's name is not attached to any of the novels she publishes during her lifetime. |
| 1811 | Composition of Mansfield Park |
| 1812 | Radical revision of Pride and Prejudice |
| 1813 | Pride and Prejudiceis published. |
| 1813 | Henry Austen's wife Eliza died. Henry is living in London where Jane visits him. |
| 1814 | Henry Austen moved to 23 Hans Place, near Knightsbridge, Jane again spends long visits with him. |
| 1814 | Mansfield Park is published. |
| 1815 | Henry Austen becomes seriously ill and Jane spends much of the latter part of this year with him. |
| 1815 | Henry Austen's bank crashed and he is made bankrupt. |
| 1815 | The Prince Regent was purported to be a big fan of Jane's work. His librarian invites her to the prince's London home and suggests that she dedicate her soon to be published book to him. Austen is not a fan of the prince, but is unable to say no.Emma is published the next month with a dedication to the prince. It is the last novel published in her lifetime. |
| 1815 | The novel is published in December.Emma |
| 1816 | Austen begins to feel the first signs of a long, progressive illness that saps her energy. She continues to work on two novels, Persuasion and Northanger Abbey, but is delayed by her illness and by financial troubles caused by the failure of her brother Henry's bank. |
| 1816 | Henry Austen took Holy Orders and became curate at Chawton, where Jane, her mother and sister were living. |
| 1817 | Initial work on the unfinished novel Sanditon. |
| 1817 | A bed-ridden Jane and Cassandra Austen move to Winchester in order to be closer to Austen's doctor. |
| 1817 | Jane Austen dies at the age of 41. She is buried in Winchester Cathedral. |
| 1817 | Austen's final novels, Persuasion and Northanger Abbey (a rewrite of the unpublished novel Susan), are posthumously published together in one volume. A biographical note by her brother Henry publicly identifies her for the first time as the author of her previous novels. |
| 1827 | Jane Austen's mother, Cassandra died and was buried in Chawton's church yard. |
| 1828 | Martha Lloyd left the household to marry Frank Austen, then Admiral Sir Francis Austen. |
| 1845 | Jane's sister, Cassandra Austen died and is buried next to her mother in Chawton church yard. |
| 1869 | Austen's nephew James Edward Austen-Leigh publishes a biography of his aunt entitled A Memoir of Jane Austen. The memoir sparks renewed interest in the writer. |
| | |
Other Hampshire Writers
(coming soon)Click on this link to explore another Hampshire History timeline. This timeline explores the many other characters who have become part of the rich culture of Hampshire History. Again, it is an ongoing project which we hope will become a full and useful resource. Read about Mary Mitford writing in nearby Alresford or Gilbert White the naturalist, writing of his observations, not a stone throw away in the village of Selborne. Explore Hampshire through the eyes of William Cobbett as he sets out on his 'Rural Rides', extolling the virtues or not, of the state of agriculture and much else in the Hampshire countryside.