Charles Dickens was born in Portsmouth on the 7th February 1812 and the city takes great pride in its association with him
A statue of Charles Dickens was unveiled today, in front of Portsmouth's Guildhall. Two hundred and two years ago the author and social reformer was born in a house at number 1 Mile End Terrace Portsmouth. His life was at times, as complicated as the wonderful stories he wove into his novels and the building of a memorial to him has brought with it its own complications.
The author stipulated in his will, that when he died there should be no memorial to him other than his writings. Until now there has been no statue erected to him in England, although statues have been erected to him in Philadelphia and Sydney and there are some who are unhappy that a statue has been unveiled in Portsmouth. His family however think that it is a fitting response to a man who brought us a contemporary view of the poorer, harsher side of Victorian life and who, through his charitable works, set about social reform.
Charles Dickens and social conscience
He was shocked by the condition of the children in Ragged Schools, an intriguing connection between him and Portsmouth's John Pounds and thought to write a pamphlet to alert people to the destitution of these children, instead he wrote the novel, A Christmas Carol, hoping maybe to reach a larger audience.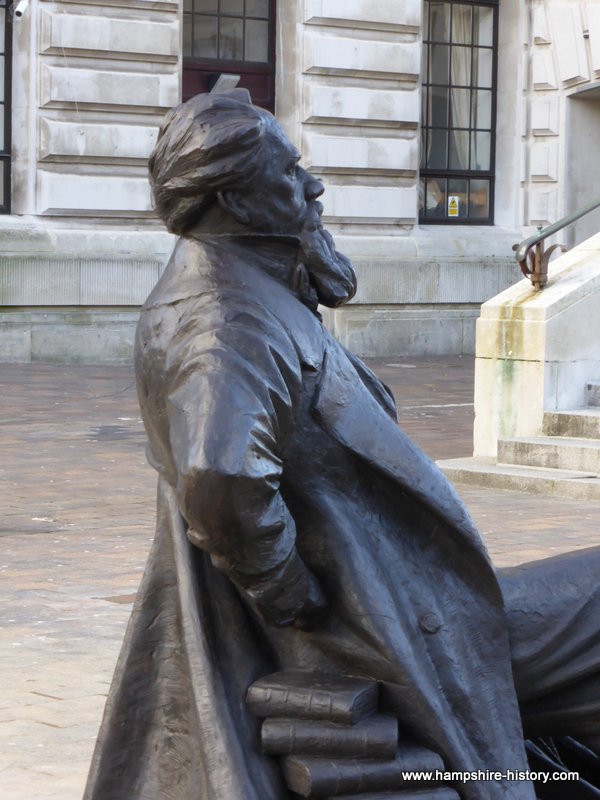 Dickens knew and worked with, Florence Nightingale, another person with Hampshire connections. Florence is known to have distributed Dickens books to nurses and soldiers, she enjoyed the idea of philanthropy by middle class individuals working alongside the poor, fighting for reform in their own communities. Charles Dickens and Florence Nightingale worked together on the Committee of the Association for Improving Workhouse Infirmaries.
So should there be a Charles Dickens statue in Portsmouth? His family think that he would probably not have minded and if it serves to bring Dickens novels into more peoples lives and reminds us that to have a social conscience is a good thing, then why not?
Visit the Charles Dickens Museum in Portsmouth and learn more about the life of the novelist.