Half hidden in a row of terraced cottages sits the Chapel of St Mary's Bucklers Hard
The Chapel of St Mary's Buckler's Hard is easy to miss, the only clues as to what lies behind the door No 82 High St, is the niche with its statue, a little bell and sign.
The cottage was originally a dwelling for shipyard workers but in 1846 a small infants school was established there and occasional services conducted in its small front room. In 1886 an altar was installed and the chapel dedicated to St Mary, protector of all who sail.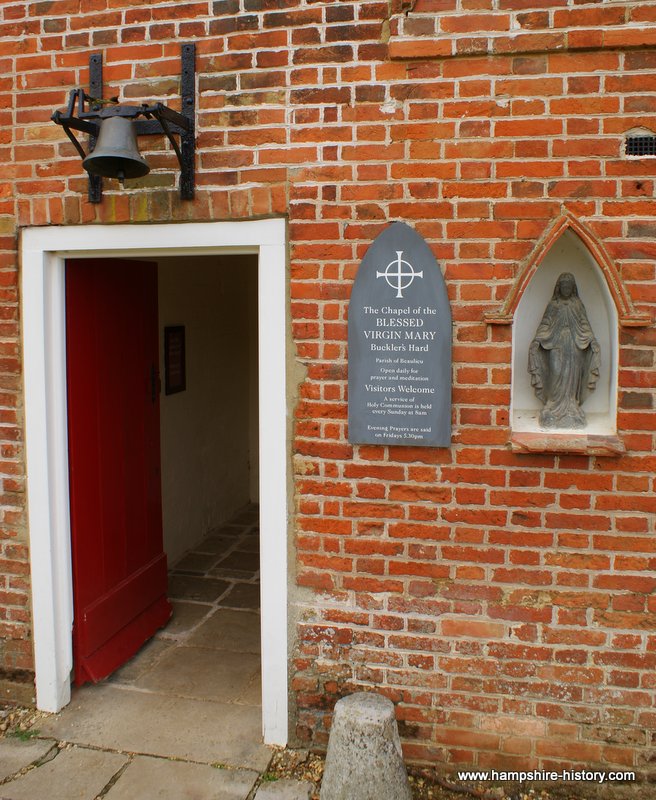 Many intriguing connections
A tiny room packed full of wonderful connections. The memorial to Sir Francis Chichester, who made the first solo circumnavigation of the globe, the WWII memorial, the carved paneling from a nearby dining room, the little statue of the Virgin Mary that inspired a poem by Elizabeth Goudge and the wonderful altar cloth connected to the Montague family. Buckler's Hard delights all who visit, from the excellent museum down to the historic river front but the small Chapel of St Mary's brings its own special peace.