John Hughes, the last man in England to hanged as a horse thief.
Itchen Abbas seems an unlikely place to find the grave of an executed man but underneath the old yew tree in the churchyard of St John the Baptist, lies the grave of John Hughes, horse thief
The epitaph reads : ' In memory of John Hughes, who died March 19th 1825, aged 26 years. A faithful friend, a father dear, an unfortunate husband lieth here. The Lord removed his earthly body into the realms of everlasting day.'
The church register reads : ' John Smith alias Hughes, a gypsy, a wanderer, aged 26, March 20th 1825.
John Hughes was a member of one of several gypsy groups who regularly pitched up close to the village of Itchen Abbas, in a lane called the Greenaways. It appears they met with kindness from the villagers but alas John was caught stealing a horse and a saddle from a stable and faced the very long arm of the law.
At a time when a horse was a very important and valuable possession the crime of horse theft had always been dealt with severely. Penal laws were very severe at the beginning of the C19th and theft of any sort quite often brought a sentence of death, that was usually commuted to imprisonment and or transportation. Theft was becoming an increasing problem following the end of the Napoleonic Wars. Men returning from the war had no work, food prices were high, the Industrial Revolution was costing country folk their cottage industries and hence their income. Times were hard.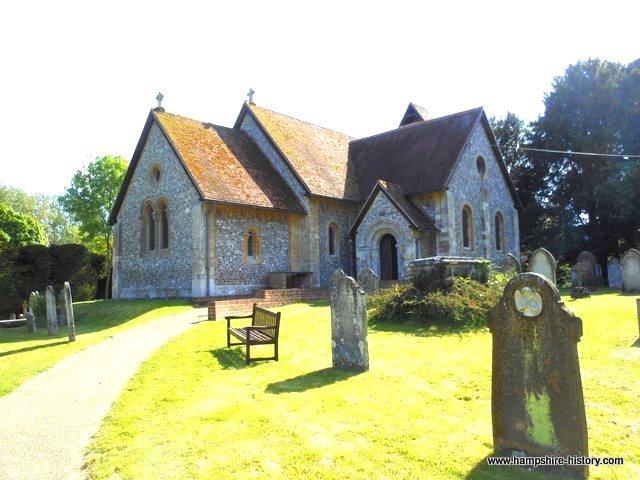 They were about to become a whole lot harder for John Hughes. Judge Sir James Burough Recorder of Portsmouth decided to make an example of John, the death sentence this time, would mean death. He would be hanged at Westminster London as a horse thief.
In Itchen Abbas, the rector the Reverend Robert Wright decided to go to London, where he was being held in prison, to plea for his life. Failing to save him from his judgement, Reverend Wright promised John Hughes that he would bury him under the yew tree in Itchen Abbas close to where his two year old daughter had been buried years earlier. This suggests the two men may have had a former connection forged when John Hughes daughter died but there is no evidence of this or her burial.
The reverend then erected the headstone that we can stand alongside today and think about the two acts, one of criminality, the other of kindness that brought these two men together.