Dame Alice Lisle stepped out of a building in Winchester to her death, a victim of Hanging Judge Jeffreys punitive hand
It is easy to take a stroll past the pub 'The Eclipse' just off the ancient square in Winchester and admire it's splendid Tudor facade but it was here that Dame Alice Lisle, a grand old lady of Hampshire spent her last night on September 1st 1685 before being executed outside its doors the following morning. Glance up at the upper storey window, from here she stepped out onto a scaffold structure specially erected for the occasion and was beheaded.
Alice was 71 years old.
Alice Lisle appears to have been an apolitical character in a time when politics were at fever pitch in England. She was the widow of John Lisle a lawyer and politician who was an opponent to the rule of King Charles I and who sat in on the Long Parliament during the English Civil War. He was made a peer by Oliver Cromwell. Alice does not appear to have had such strong political views but seems to have paid a high price for her husbands.
On the evening of 28th July 1685, Dame Alice Lisle, whose home was Moyles Court in Hampshire, sheltered two fugitives, John Hickes a non conformist minister and Richard Nelthorpe a lawyer, from the Battle of Sedgemoor and the Monmouth Rebellion. It is quite possible that she had no idea of the consequences of her actions, it has been suggested that her response was one of a humanitarian and not politically motivated. Her speech before her execution suggest that she was taken both by surprise and was frightened by the appearance of the men and that seems to be totally understandable. A conspiracy of political intrigue seems to be an unlikely motivation.
She was tried at Winchester by Judge Jeffreys who showed her no mercy, found guilty of treason and condemned to death by burning but then allowed that she should be beheaded rather than burnt in respect of her station.
On the 2nd September 1685 Dame Alice stepped out to her death. It was a shocking moment in time. She was the first to be tried in what would become known as the Bloody Assizes and stirred a feeling of discomfort about the judicial system, not just in England but across many nations. The jury prevaricated, believing her story that she gave food water and shelter to those who arrived at her door in need. Judge Jeffreys was beside himself with rage and as the jury made their deliberations he sought to bully a guilty verdict out of them and reluctantly they gave it. It was a decision that sat ill with the county and the country.
King James II sought to put down any further thought of rebellion through the mechanisms of the judicial system, Dame Alice Lisle's death was the first of many terrible verdicts meeted out across the country.
Judge Jeffreys was a brutal, politically motivated man who was eventually to face the Tower when King James II fled the country.
What did Dame Alice herself have to say?
The last words of Lady Lisle are well worth reading and one can only wonder at the anguish her family felt as she made them. Forgiveness and understanding seem to be the main thrust of her address, although whilst forgiving him, Alice Lisle points a rather direct finger at Colonel Penruddock, who she says, told her that he could have taken the men before they reached her house. Um, not much you can say to that is there?
Dame Alice Lisle's body was taken to her family parish church at Ellingham and her body probably buried in the churchyard on the right hand side of the porch. As a convicted felon it seems unlikely she would have been placed inside the church itself. The grave stone was engraved after the death of her daughter who lies with her and though difficult to read, is simple and humble, seemingly like the lady herself.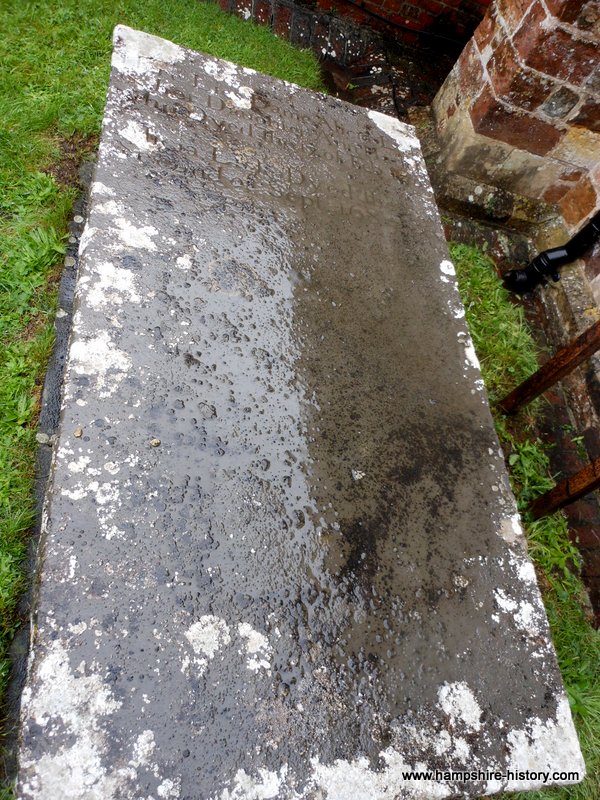 Here lies Dame Alicia Lisle and her daughter Ann Harfell who dyed the 17 Feb 1709/8
Alicia Lisle dyed the second of Sept. 1685
A frescoe created at the turn of the C20th can be found in the House of Commons that portrays the heroism and generosity of Dame Alice Lisle.