Bentley and the Anarchy.
Hidden in the landscape around the village of Bentley lies evidence that connects Bentley with The Anarchy, a time when law and order were abandoned and the common man was caught up in war not of their own making.
So what was The Anarchy?
The Anarchy was the fight for the Throne of England after the death of Henry I between his daughter the Empress Matilda and his nephew Stephen of Blois, during the 12th Century between 1139 and 1148.
This was mainly a castle war, as not only did the supporters of each of the main protagonists siege each other's castles but rebels who had a grudge against King Stephen used this period to build castles without the Kings permission, such castles are called Adulterine Castles. These rebels then laid waste, pillaged, murdered and caused havoc in the surrounding area. It was a war where the ordinary peasants suffered intolerable hardship and suffering.
The main theatre of war was in the Southwest (Cotswolds), Midlands, East Anglia and London, it was, by and large, a stalemate but eventually the Empress Matilda left England for Normandy but her son Henry of Anjou carried on the fight, conquering Normandy with the help of his Father Geoffrey Count of Anjou. Henry forced King Stephen to submit and enter talks, which eventually made Henry become Henry II King of England.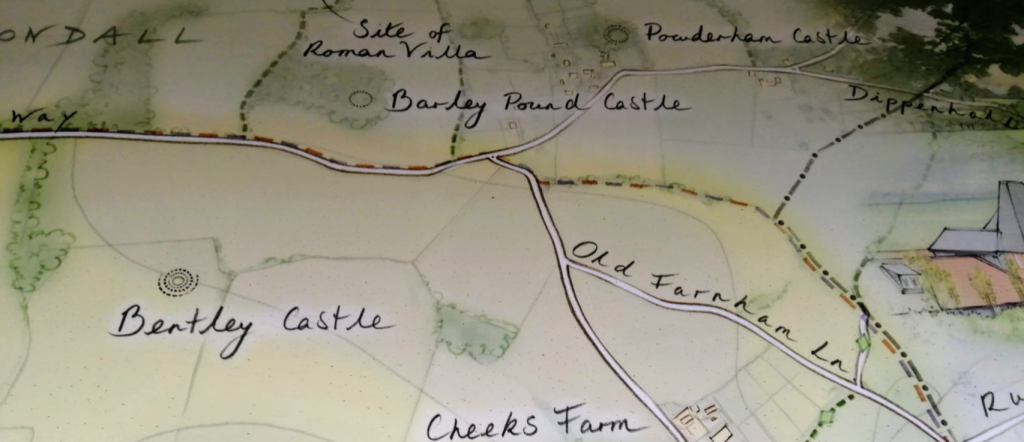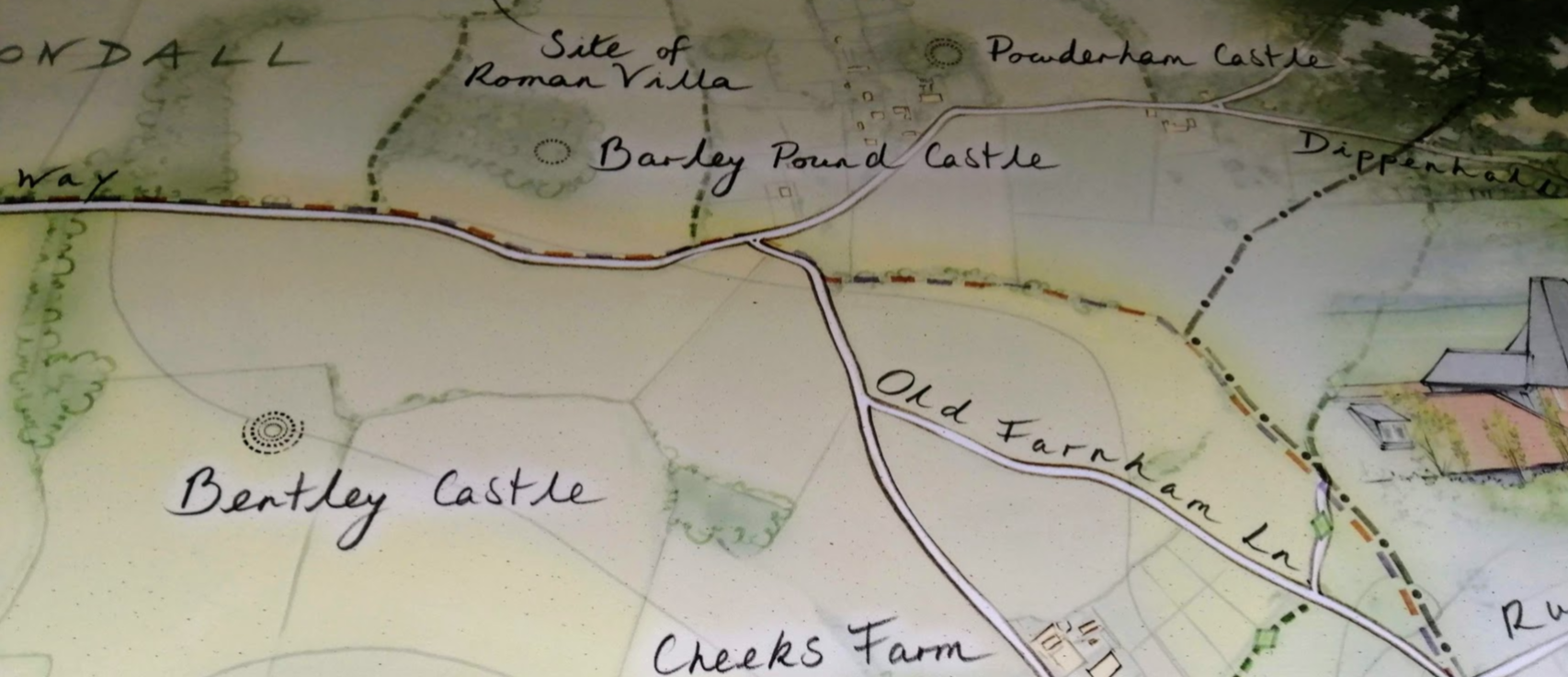 How was Bentley involved in The Anarchy?
There are three Castles in the Bentley area involved in The Anarchy, they are, Barley Pound or Lidelea as mentioned in the Gesta Stephani, which was a C12th manuscript which related the war between Stephen and Matilda and two sieges castles Powder(ham) and Bentley. These were thought to be a ringworks but after examination were found to be  medium sized Motte & Bailey castles which included a low motte within a roughly circular enclosure
Barley Pound  (Lidelea) Castle was built by the Bishop of Winchester Henry of Blois, brother of King Stephen. It was captured by a companion of Brian Fitz Count, a leading Angevin supporter of the Empress Matilda and castellan of Wallingford, there are no definitive records of who this companion was but is may have been Roger Foliot, Bishop of Hereford.
Barley Pound Castel (Lidelea).
Bentley and Powder(ham) Castles, were built by the Bishop of Winchester. During the siege of Lidelea (Barley Pound) the Castle eventually succumbed after the  intervention of King Stephen and it was returned to the Bishop of Winchester, who at the time was having his Castle at Farnham built and Barley Pound was abandoned in favour of the bigger stronghold that was Farnham Castle.
Barley Pound (Lidelea) Castle was formerly marked as a Roman Amphitheatre on O.S. maps, but is actually one of the best examples of a ring and bailey fortress.
Lidelea is also reputed to be the headquarters of the 13th Century outlaw and highwayman Adam de Gurdon, that rebellious and errant knight, one time Lord of Selborne.
What is left to see?
Unfortunately very little, most remains have been ploughed out and the site is on private land but imagine a view across the landscape, maybe from the church of St Mary, which was built in the same century and there stand the motte and bailey siege castles in the near distance and the road out towards Bentley where Adam de Gurdon played the role of highway man. Plantagenet Hampshire in all it's glory.
A New Guest Author
A big thank you to Peter Hey, an amateur historian who has written these post for Hampshire History. Peter has a particular interest in Plantagenet history and we were delighted to have this intriguing piece of history drawn to our attention. Any errors grammatical or otherwise are down to us not Peter!