Sir Adam de Gurdon, knight turned outlaw, turned knight again.
The troubled times of King Henry III's misrule, brought to the fore one of Hampshire's Knights, who, in turn, became one of its most notorious characters. Selborne in Hampshire was the home turf for this knight.
England during the reign of King Henry III, was a land troubled and divided. It was a period of civil strife, provoked ostensibly by the King's demands for extra finances. This disatisfaction spilled over into areas of more general dissatisfaction with Henry's methods of government. This disatisfaction came from nobles and the poor alike. Whilst money was being demanded from the rich, the wider population were enduring a pitiful and devastating famine.
The Second Baron's War
The result of such poor management by King Henry brought about the Second Barons War 1264-1267. This was a civil war, on one side were the barons led by Simon de Montfort, on the other, Royalists forces, led by Prince Edward in the name of Henry III.
Hampshire during the mis-rule
Hampshire was once covered by vast tracts of forests, which became invaluable for highwaymen and outlaws to escape to and hide in. As a result of these outlaws, the roads in Hampshire became dangerous to travel on. Hampshire had more than its fair share of highwaymen and the nobles demanded that something be done
A call came to make the highways safer
The road between Basingstoke and Southampton became especially dangerous to travel along and a parliament, held in 1285, enforced an act to widen the highways. Each side of the carriageway had to be cleared of bushes, woods and dykes to a distance of two hundred feet. Any proprietor failing to do this was liable to be made responsible for any crime committed on their stretch of road.
So who was Sir Adam de Gurdon and what did he do?
Adam de Gurdon was a minor nobleman. He was Lord of Selbourne in Hampshire during te C13th and Bailiff of Alton in 1232, he also a Knight of the Garter. He was  one of the disgruntled barons who sided with Simon de Montfort the 6th Earl of Leicester  and as a result, was disinherited of his estates in 1266. This action led him, with others, to form a party of outlaws which ravaged Berkshire, Buckinghamshire, and Hampshire. A particularly favoured stomping ground of his was Alton Pass, near Basingstoke.
The consequences of the Second Barons War
By 1263, de Montfort and his forces had captured most of southeastern England and at the Battle of Lewes in 1264, Henry was defeated and taken prisoner, Simon de Montfort worked to broaden parliamentary representation, so that it included groups beyond the nobility, with members from each county of England and many important towns. King Henry III and Prince Edward remained under house arrest.
Prince Edward escaped captivity fifteen months after being caught and he led the royalists into battle again. He defeated and killed de Montfort at the Battle of Evesham in 1265. Prince Edward now felt confident enough to face the recalcitrant barons and chose to confront Adam de Gurdon in person.
Prince Edward and Adam de Gurdon meet
In 1266, Prince Edward met de Gurdon somewhere close to Alton, the exact position is uncertain but thought to be somewhere just east of Long Sutton.
Various stories exist to relate what happened during their encounter. One story is that after a long fight, de Gurdon was unseated from his horse but Edward was so impressed by his courage and prowess, that he spared his life. This was a shrewd move by the prince, who then restored de Gurdon's land and by doing so secured the loyalty of the Knight Adam Gurdon who became one of Edward's most trusted supporters.
Sir Adam de Gurdon, what became of him ?
Rather ironically, Sir Adam was made a justice of the forest in 1280 and in 1293 mention is made of forest offences which had been tried before him, which at one time he would have been party to. He took part both in the Welsh and Scottish wars, and in 1295 was custos of the sea shores of Hampshire, that is guard of the seashore. He was made a commissioner of array in Hampshire, which was a commission  given by royalty to officers or gentry to muster the inhabitants of an area and see that they are in a fit condition for war.
Sir Adam de Gurdon's family and lands
Sir Adam married Constant daughter and heiress of John de Vanuz, whose estates were at Selborne. He then married Almeria, by whom he had two sons and after she died, Agnes, whose daughter Johanna was his heiress.
The Charles Roll of 1285 records his arms as red 'gules' and  three silver fleur de lis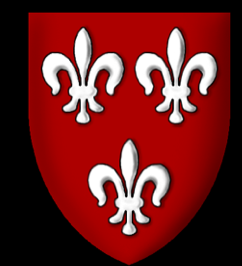 Despite having regained his lands, he continued to obtain more land through violence and, by a warrant of 'destringas' in 1282 was forced to restore lands to the Bishop of Winchester. He did, however, give some of his own lands to the villagers of Selbourne in 1270 and to the Priory in 1271.
He lived to a great age, dying in 1305 and is buried in St Mary's Chapel Selborne, which was possibly built as a chantry chapel for masses to be said for his soul.