A description of the round table that hangs in the Great Hall at Winchester, all that remains of Winchester Castle, can be found in chronicles as early as the C15th and it was considered to be old then.
The table is large and striking and is thought to have been crafted in about 1290 for the betrothal of one of Edward I daughters.
It is a table of fable and mystery, remembering the heroic legends from a previous 'King', that of Arthur and his knights.
It has been hanging on the wall of the Great Hall for at least five hundred years which possibly explains its survival. Originally it stood on twelve legs with a central support, very necessary when one considers its size. It is 5.5m in diameter and weighs 1200Kg. It was built to last, constructed from what must have been enormous English oak trees.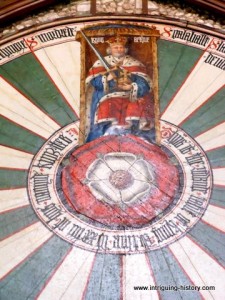 During the reign of King Henry VIII, the table was painted with the Tudor Rose at its centre and is thought to portray Henry as King Arthur on his throne, surrounded by 24 places for his Knights of the Round Table each one of them named.
The inscription is a later difficult to make out but it reads;
This is the rownde table of kyng Arthur w(ith) xxiiii of his namyde knyattes.
The knights are then named;
galahallt Sir Galahad
launcelot deulake Sir Lancelot
gauen Sir Gawaine
p(er)cyvale Sir Percival
Iyonell Sir Lionel
trystram delyens Sir Tristan
garethe Sir Gareth
bedwere Sir Bedivere
blubrys Sir Blioberis
lacotemale tayle Sir La cotemal tail
lucane Sir Lucan
plomyd Sir Palamedes
lamorak Sir Lamorak
born de ganys Sir Bors
safer Sir Saphar
pelleus Sir Pellinore
kay Sir Kay
Ectorde marys Sir Ector
dagonet Sir Dagonet
degore Sir Degore
brumear Sir Brunar
lybyus dyscovy(us) Sir Guinglain
Alynore Sir Alymore
mordrede Sir Modred
The table is a very tangible reminder of the great age of the 'Arthurian' legend and the hold it had on the people of England even over five hundred years ago.