Posts Tagged 'New Forest'
Forest Laws were introduced by William I and the New Forest in Hampshire was one of the most important of the King's hunting grounds. For the local population however it was the imposition of a tyranny that brought them great suffering.
Read More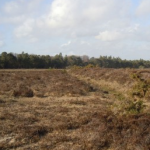 Charford in Hampshire is thought to have been the scene of a bloody battle that resulted in Cerdic and his son Cynric becoming the first kings of the Kingdom of Wessex.
Read More