The St Barbe Museum in Lymington offers a great opportunity to get under the skin of the life and environment of Lymington and its surroundings through history and culture
Local museums are often one of the best places to start an exploration of an area and the St Barbe Museum and art gallery in Lymington is no exception. Lymington in the New Forest bristles with history. A walk down the hill to the quayside tells its own story of trade and prosperity and hints of a time when the town had a thriving market and its industries were connected to the sea, boat building, sail making and salt production among them.
With Lymington's history so intrinsically bound to the coast, the museum's collections and exhibitions are full of tales of life at sea. The old photographs, part of a superb collection that the museum has digitized, are a fantastic resource for anyone with an interest in the area, local or family.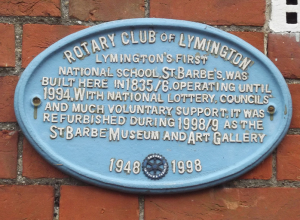 The museum also explores the history of the parishes of Boldre and Hordle along with other towns along this section of coastline. Boldre of course, connected with the C18th cleric and author, William Gilpin.
St Barbe Museum is far  more than a local history museum though, it has regular cultural events, including art exhibitions and poetry readings and it seeks to involve its local community as much as possible.
Use the map to explore more Hampshire history around St Barbe Museum Lymington, which is open daily from 10am – 4pm.