Interesting Hampshire Headstones and Memorials
On our travels around Hampshire we often see interesting Hampshire headstones and memorials
These headstones and memorials are not necessarily to famous people but capture the eye because of an interesting or moving inscription or design. Maybe they show an unusual name or group of surnames. We wanted to share them with you so will be adding them in with a short post and pictures. You will be able to search for them under the category headstones. We will link to the major Hampshire cemeteries where many volunteers are doing an excellent job of caring for these important sites.
Where there is a group of family names we will also include it in the Hampshire names table. Obviously this is a big task so if you have any headstones that you think need to be included, just contact us to let us know.
What's in a headstone?
The inscription on a headstone can tell us so much more than the name and date of death of the person. It tells us about the connections to others, beloved husband, father etc. It might give an insight into a trade or occupation. Sometimes it gives reflects back for us the state of society, young adults dying and infants one after the other. The carvings on the headstones may also give hints to changing styles in society.
The craft of the local mason evident for all to see as he himself interpreted the world and fashion around him. Sculpture and symbolism are mixed with the style of the day. Angels, skulls and flowers festoon Hampshire headstones and because of its connection to the sea, anchors and ships pop up here and there.
The funerary urn or tomb with accompanying tree is a common Victorian symbol. The weeping tree, a classic image of grief.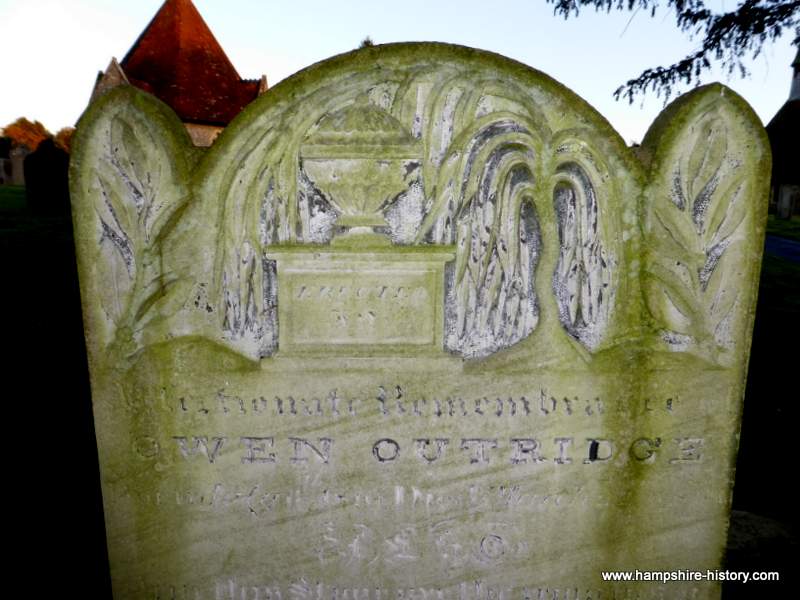 As we discover more about our Hampshire headstones we will add to the post and if you are all experts on Hampshire headstones, please forgive us as we are not but will have fun learning more. By the way the background to Hampshire History Home page is an iron grave marker from Exton.