A Medieval graffiti search at Wield has turned up a small figure
Carved into the soft chalk stone of the chancel arch in the delightful church of St James at Wield, is a barely distinguishable little fellow. His feet have been lost or never carved in the first place but the legs are well defined. He is wearing a short tunic. These tunics were made in a T shape and then gathered at the waist. Upon his head he appears to be wearing a coif, a linen cap or undercap, which covered the hair and ears and tied under the chin. The face is quite clearly defined, the figure seems to be gazing upwards, you can make out the nose in profile as it juts out below the cap and it appears the man has a beard. The arms are difficult to see and because of the shallowness of the inscription it was difficult to produce a 3D effect.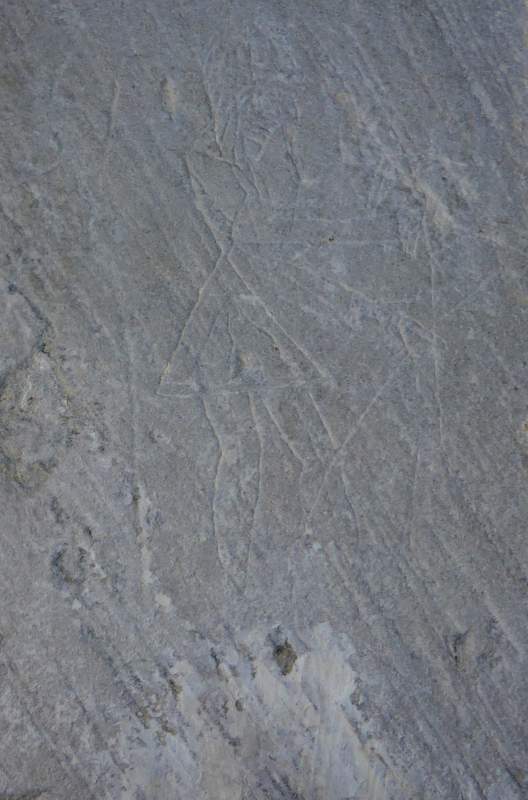 Graffiti is difficult to date but costume can help and this piece was probably inscribed in the 14th century but nothing is certain. Beards were unusual in the 13th century but were worn and became popular for a brief period between 1325 and 1350.
From a social history point of view it gives an insight into a small moment of time when someone who was probably on their knees, facing the altar, sketched a figure, possibly himself. The date quite possibly the period of the Black Death which struck Hampshire in around 1348 and during the subsequent difficult period that followed.  The member of the congregation that drew this outline was a commoner, someone whose life is poorly represented in the historic record generally. In the graffiti that we observe we can learn a little about the concerns and fears of those in these tiny communities. Maybe the artist was responsible for other apotropaic marks or ritual protection marks that can be seen in the church, we will never know.
The Medieval parish church was the centre of, the focus of, the community. This person may have been baptised in the font, married here and buried out in the church yard somewhere but by leaving this small crudely drawn inscription we know he existed and that, is why Hampshire history will continue to record the graffiti found in our beautiful parish churches.