Built in 1256 and therefore forty years after the death of King John, this is not King John's house but the name has stuck
This building is a fascinating insight into C13th life. Built of flint and fine stone, some of it Quarr quarry stone, used to build the finest structures, it formed part of Romsey Abbey which is a short walk away from the house. The King John building is attached to a late Tudor, early Jacobean cottage.
It was a carefully built structure with fine door and window mouldings. Close examination of the beams show that many of them had been re-used for the 1256 building, might there have been a property here before then that was built for King John?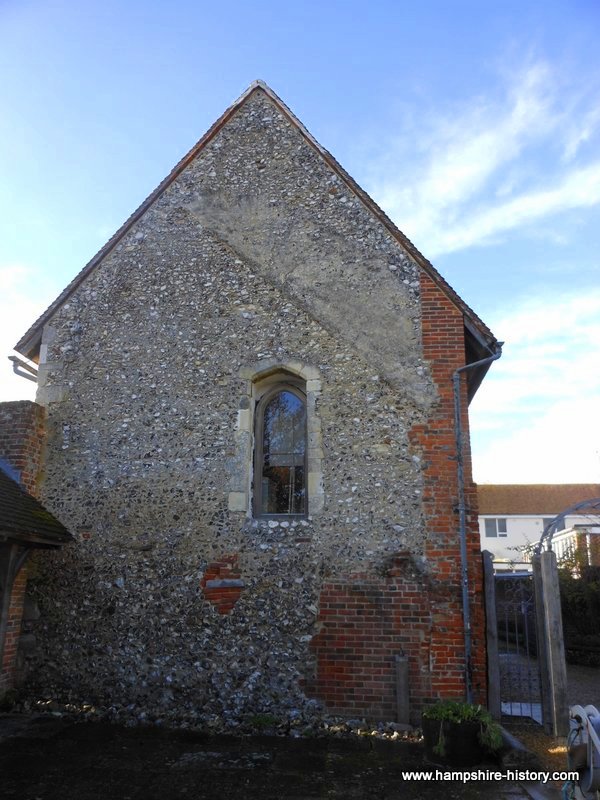 Let's consider the King John story
Royal records tell us that King John, who hunted extensively in the New Forest had a hunting lodge built in Romsey. The Royal household had close links with Romsey Abbey and it is quite likely that the lodge would have been in close proximity to the Abbey. Being the King's hunting lodge, first class building materials would have been used, including stone from the Royal quarry at Quarr on the Isle of Wight.
King Henry III granted the lodge to the Abbess so that she could convert it into an infirmary guesthouse for the Abbey. The building continued to be used during the reign of King Edward I.
So although the current building is not the actual structure built for King John, it does not seem implausible that forty years after the death of King John, that the building was refashioned or its fine stone and timber re-used resulting in the structure that exists today.
Part of a more extensive range of buildings
The building itself comprised a first floor hall with a lower floor of divided rooms. There is some evidence of other stone buildings were in the vicinity, no doubt stabling and kitchens. The building was then added to in the late Tudor period and used as a merchants or tradesmen house before falling into decline.
On the east wall another roof-line is clearly discernible, this may have been a small attached chapel.

A wonderful collection of Medieval buildings
This collection of Medieval properties are well worth visiting, part of it now forms the Romsey Heritage Visitor Centre and is open Mon -Sat 10am to 4pm.