The Green Elm with its one great bough of gold, lets leaves slip into the grass, one by one…
The poem 'October' by the poet Edward Thomas could be written about the landscape of the Hangars that rise behind the village of Steep. Alas no elms here any longer but a swathe of beautiful woodland that could inspire any of us to write.
Edward Thomas was a celebrated writer, born in Lambeth a student of Oxford University. His writing included book reviews, prose and a novel and he only turned to writing poetry, which he considered the most noble of literature, when he moved to Steep. Thomas and his family made the move when he and his wife Helen decided their children would be educated at Bedales School. The author lived in three different houses in the village and drew inspiration to write his poems from the beautiful countryside around.
On the Shoulder of Mutton Hill, high above the village of Steep, sits the Edward Thomas Memorial stone and it was the walk up to this hill that Edward Thomas regularly made, that inspired the poem 'When I first came here'.
WHEN first I came here I had hope,
Hope for I knew not what. Fast beat
My heart at the sight of the tall slope
Or grass and yews, as if my feet
Only by scaling its steps of chalk
Would see something no other hill
Ever disclosed. And now I walk
Down it the last time. Never will
My heart beat so again at sight
Of any hill although as fair
And loftier. For infinite
The change, late unperceived, this year,
The twelfth, suddenly, shows me plain.
Hope now,–not health nor cheerfulness,
Since they can come and go again,
As often one brief hour witnesses,–
Just hope has gone forever. Perhaps
I may love other hills yet more
Than this: the future and the maps
Hide something I was waiting for.
One thing I know, that love with chance
And use and time and necessity
Will grow, and louder the heart's dance
At parting than at meeting be.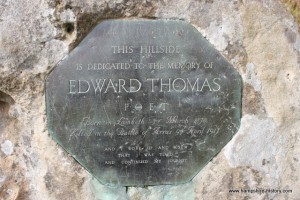 The stone was erected by Walter de la Mare in 1937 and the view of fifty miles of the South Downs is stunning.
In the village itself there are many references to Edward Thomas. His death during the First World War at Arras in 1917, is remembered on the village war memorial in Mill Lane and in the church he is commemorated by two engraved windows by Laurence Whistler.