There are so many intriguing historical facets to the history of St Thomas a Becket church Warblington, that we have to keep returning to it.
The Warblington watch huts are quite possibly overlooked by the visitor to St Thomas's church in Warblington, maybe considered to be sheds for storing grave diggers shovels but in fact they are much more interesting.
They are in fact, rare examples of Watch Huts. At the turn of the C19th, in Georgian Britain, the demand for corpses for medical study and research, far outstripped demand. It was the growing realisation that knowledge of anatomy and surgical procedures was scant. The growth of anatomy schools meant more and more bodies were required by students for dissection.
Sourcing Corpses for Dissection became a new illegal but lucrative business
The various guilds of surgeons and physicians were allowed between four and six bodies for dissection each year. Criminals quickly worked out that they could fill the gap in the market by stealing freshly buried bodies from church yards. One body could yield a months wages.
The Resurrection Men
Professional bodysnatchers, known as the "resurrection men", visited church yards at night looking for freshly dug graves, sometimes accompanied by medical students. Such was the fear of being taken after death that people invested in tamper proof coffins or those who could afford it, surround their grave with iron railings. The poor of course could afford neither and were left with the fear of disinterment.
Warblington's Solution
In 1828, the parishioners of Warblington were fortunate enough to be given added protection and guards were placed in the church yard to prevent the digging up of bodies.
Bodies were brought for burial from nearby Emsworth and their graves placed in the south east corner and so a watch hut was built there and in the other corner another was built to guard over the burials there.
Each hut was equipped with a fireplace to ease the chill of the wind off the sea as the watchmen completed their nightly vigil, guarding the bodies of the parishioners of Warblington and Emsworth.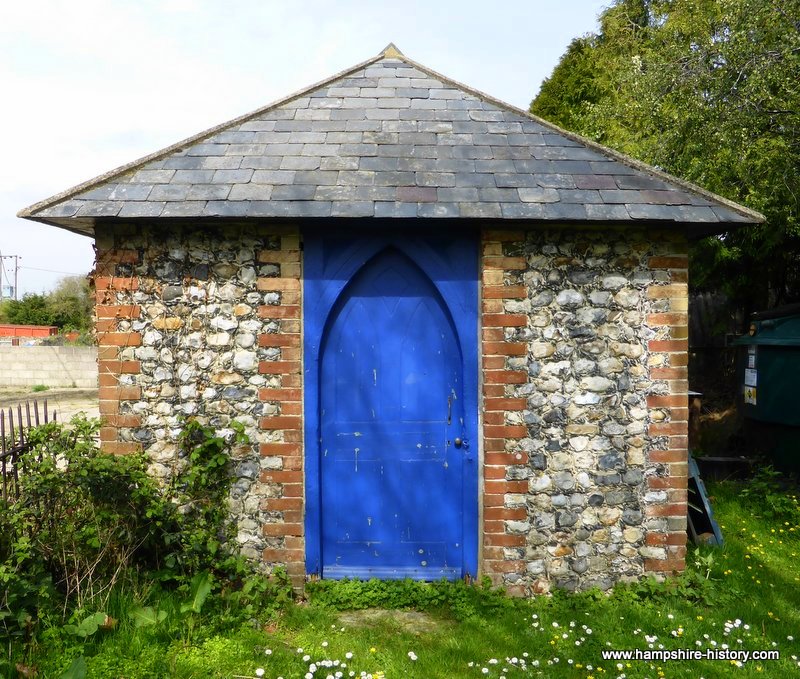 This poignant poem can be seen on the wall inside one of the huts
I loved her when the bloom of health played sweetly on her cheek.
When life beamed brightly from these eyes so joyous yet so meek.
I loved her when afflictions power had laid these beauties low. I loved her when the mark of death was sealed upon her brow.
Her dark hair still floated on her fair and lovely neck.
She looked the shadow of the past of former hopes the wreck.
Yet from that sparkling eyes a pure and heartful ray I'm told of hope beyond the grave, when life has passed away.